Amy
At home eating my lunch one day, I got the call that I was diagnosed with DCIS. This was in October of 2006 at the age of 37. I remember just being able to jot down what they were telling me on a post-it note…
Read More
I hung up, walked into our office to see my husband and crumpled it up and threw it down – I was ticked off! I think I said something like "this is just bullsh*$!". Ok – now into battle mode we go… after a stereotactic needle biopsy, and 2 excision procedures that did not result in clear margins or a good mammogram report, I had a bilateral mastectomy surgery and reconstruction surgery (saline implants). Time to "cut them off and rebuild me" I said to my surgeon. I wanted to get rid of as much as I could that I associated with the "infected" tissues. Approximately 4 weeks after the mastectomy I was lucky enough to run into someone headed for a meeting about "possibly starting up a dragon boat team for Breast cancer survivors". I was immediately excited and interested in finding out more about it and was invited to come along! SO GLAD I DID! I ended up getting to be involved with the formation of the Indy SurviveOars from the beginning and served on the founding Board of Directors – how cool! I immersed myself in emails and meetings about this sport and just plain loved the idea of being a part of a support group that combined athletics with it! Being a competitive person, I always say I am in it to win – but winning is more than just the dragon boat race – it is winning against cancer, winning new friends, winning confidence, and strength (physical and emotional) and so much more… (a trophy or medal once in awhile is a great bonus!). The Indy SurviveOars are a great bunch of ladies and I am honored to be associated with this team. They are amazing!
Charlotte
I was diagnosed with Stage I Lobular cancer in November of 2007 at the age of 48 and subsequently underwent lumpectomy and 33 radiation treatments. I have since failed Tamoxifen and Femara
Read More
as adjunctive treatments and will soon be starting on another aromatase inhibiter. Five years prior to my diagnosis my sister, Susan, died of Cancer of Unknown Primary (CUP). She and I shared an admiration for dragonflies long before they were trendy. She died in the spring and after her passing dragonflies started following me around. Other people began to notice and would make comments about a beautiful dragonfly sitting at my feet or about how weird it was to have so many dragonflies around when there was no water in sight. I always felt it was Susan sending me a sign that she was still with me. After my diagnosis with cancer my doctors wanted me to find a support group. As a working wife and mother of four children, ages 6-14 when diagnosed, I felt I couldn't spare the time to have dinner and talk like traditional support groups do. One night it occurred to me that it would be great to find a group that combined exercise with survivor support. I had never heard of dragonboats much less of Indy SurviveOars but I did an internet search and it popped right up. Now I'm exercising, which cancer hates, and I'm getting the support I need to forge ahead through the breast cancer journey. Being a part of this amazing group of women has given me strength both physically and emotionally. And, when we're on the water and a dragonfly lingers near our dragonboat I feel my sister's presence and hope that she is with us, too.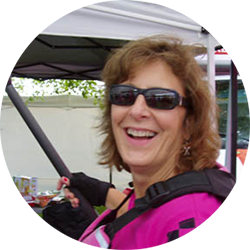 Deb S.
I was diagnosed with stage 1 invasive lobular breast cancer in October 2006. I had no risk factors and no family history. I had been receiving my yearly mammograms for the previous 7 years.
Read More
I was very lumpy on the right side with dense breast tissue and several ultrasounds were done and I was told that they were cysts. Since I am in the medical field and work as a Nurse Practitioner I was aware of the newer technology, the digital mammogram. When I was due for my yearly mammogram I asked my doctor if I could get a digital mammogram this time around. I went in for my screening mammogram and walked out with breast cancer. Wow! Was that surreal. But I felt that I had just saved my own life. I am not sure when my cancer would have been identified if I continued to get the standard mammogram. I went through 8 rounds of chemotherapy and 33 days of radiation treatment. I was able to continue work full time except for my chemotherapy days.
I was looking for some type of support and camaraderie because once you have experienced cancer, your life changes in ways you can't explain to others. Only those who have been through it understand and can relate. I tried a support group through my breast surgeon's office and after 2 sessions I had to stop. I felt like all I did was become sad and cry and that is not what I was looking for. I needed something fun and upbeat but with people who could relate to how I felt.
At a cancer survivor celebration that my neighbor Lee (also a breast cancer survivor) and I attended together in December of 2009, we stopped by a booth for the Indy SurviveOars which I did not pay much attention to until one of my previous coworkers (Charlotte) from 16 years prior came up to me and said that she too was a breast cancer survivor and that dragon boating was the most fun thing she had ever done in her life. So, Lee and I signed up to try it out in the spring of 2010 and we were immediately hooked.
Not only is dragon boating fun, but it provides great support with others who have been through what you have. You can talk and learn in a fun upbeat setting while enhancing your strength; and it gives you a great sense of accomplishment and well- being. I am also a competitive person so the dragon boat competitions fulfill that drive in me. These women are the greatest group of women to be with. They are all ages, all sizes, all different backgrounds and interests but we all just mesh so well when we get together. As of now we have no male survivor on our team but if we ever do, I am sure he will love hanging out with this group of ladies.
Gina
I received a phone call from my OB/GYN doctor on September 14, 2012 informing me the biopsy results revealed I had uterine cancer. I underwent a total hysterectomy with removal of 13 lymph nodes on October 11, 2012.
Read More
In April of 2013 I noticed my right ankle seemed rather swollen, when inquiring about the swelling with some nurses I work with they suggested that I call my oncologist and let him know about the swelling. I was one month away from my second three month checkup when I went for this visit. During this visit, I asked if we could just go ahead and do my next check- up so I wouldn't have to come back the following month.
Well, to my surprise and his, he found another suspicious bump, so he did a biopsy. Then on April 26, 2013 I received a phone call from his office letting me know that the cancer had returned. Next stop: radiation oncology!
I met with my radiation oncologist and she explained she would like to start with 5 weeks (5 days a week) of external radiation, then probably do 1 to 3 internal radiation treatments. After the 5 weeks of external were finished, they let me have one week of freedom, which would then be followed with 5 weeks of internal radiation (1 day a week). Radiation treatment started on May 16th, 2013 and I completed all radiation treatments on July 26, 2013.
The swelling that I mentioned earlier is systemic from having the 13 lymph nodes removed and is referred to as lymphedema, which means I carry approximately 8 – 10 pounds of lymphatic fluid in my legs and lower abdomen. Lymphedema has left me wearing compression garments on both legs and a compression short, plus I use a compression pump for one hour every evening.
When I went to Fig Leaf to be fitted for my compression garments, I met the sweetest woman and she introduced me to dragon boating. I'm very grateful that Yopi took the time to let me know about this floating breast cancer support group and the sport of dragon boating. This group of wonderful women allowed me to feel alive, to feel strong and to feel like I still had value to my life.
Cancer of any kind isn't fun, it's not funny at all, but the thrill of dragon boating and the laughter that comes from within you and within this huge boat makes everything better. The support you receive from this group of women is phenomenal and at times a word never needs to be spoken, you just feel it.
Kristi
I joined the Indy SurviveOars in 2013 as a SupportOar. I became acquainted with several members of the team through my work as a primary care physician. I attended the Vines for Life fundraising event where the Indy SurviveOars showcased their amazing organization. I wanted to be part of it, and they welcomed my support.
Read More
I started paddling that summer, and I was completely hooked after my first race. I remained an active member of the team attending practices, clinics, races, off-season training, and team events. After my 7th season with the team, I was diagnosed with breast cancer. I received the diagnosis of invasive mammary carcinoma with mixed ductal and lobular features 3 weeks before my 54th birthday. I already had an amazing support network in my corner going into treatment. I was able to talk to multiple teammates about the treatments they had chosen, and it really helped me make my own decisions about treatment. I went into treatment without fear. I had bilateral mastectomies in February 2020. The COVID-19 pandemic kicked into high gear the week I returned to work. Fortunately, I didn't require chemo or radiation. I didn't tolerate my aromatase inhibitor medication, so I was switched to tamoxifen. My reconstruction was delayed several times due to COVID, but I finally had reconstructive surgery in September 2020. Honestly, I was worried about how to time my reconstruction so it wouldn't interfere with dragon boat season. Thanks to the pandemic, we didn't get in the boats at all in 2020, so I had plenty of time to heal. I am now entering my 9th season, but as a SurviveOar this time. I can't wait to get back in the boat and spend time on the water with the team!
Michelle
I will never forget the date, August 31, 2011. My doctor called and said the words I had never anticipated hearing, especially at the age of 37. "You have breast cancer." To say I was surprised is an understatement.
Read More
I was diagnosed with stage 2 invasive ductal carcinoma. My treatment plan took some time to develop because I am also a leukemia survivor so had additional risks to be considered. It's scary having two different types of cancer before you even hit age 38! Before I had even fully processed my diagnosis, I had a bilateral mastectomy, followed later by an axillary lymph node dissection and then radiation treatments, and I will have to take Tamoxifen for 10 years.
In the beginning, I was very aware of the new worries breast cancer had brought into my life and the challenges it was leaving me with. However, after I had some time to process everything and heal my wounded spirit, what became so much more powerful in my mind was the camaraderie, love, and support that came into my life BECAUSE of breast cancer. I have been blessed and count myself lucky to be apart of a team of strong, vibrant, fun women who, despite all of the challenges we have faced and may continue to face, can come together as teammates, friends, and supporters to do amazing things.
Shari
February 4, 2010 I heard the words "you have cancer." I knew my life would never be the same and I was scared. Stage II, fast growing=lumpectomy, 6 rounds of chemo, 61/2 weeks of radiation and target
Read More
therapy of Herceptin for a year, fighting cancer by becoming ill and weak, so weak. November 2010 chemo and radiation completed…Now What? I'm scared.
I was given a gift in January of 2011 when I found out about Indy SurviveOars Dragon Boat Racing Team. Out of the bad things in life come good things. This team is one of the best things that have ever happened to me and I certainly have had no shortage of good things in my life! That's just how great this sport and my teammates are! You don't have to be a big jock, skill over-rules brawn so don't be afraid to try it. Teamwork is essential along with your spirit…and that of the Dragon.
February 4, 2012 I heard the words "you are cancer free." It's also the year of the Dragon! REACH!
Susie
My breast cancer journey began the month we took our daughter off to college in NH in 2001 and around the days of 9/11. The diagnosis and stage took longer to determine
Read More
because the biopsy was sent to Pittsburg, PA for a second opinion on 9/11. My treatment included a lumpectomy, chemotherapy and radiation for infiltrating ductal carcinoma.
I joined INSO because Yopi, a team member, hounded me for a year to try the sport. I love physical exercise and finally decided to give it a try. From my first time on the water, I was hooked. Though I wasn't sure in the beginning if I had the stamina to participate, I kept coming back. Now I can even paddle and talk just like my teammates were doing that first evening I was on the water!
INSO has had great positive effects on me. I love the physical exercise and endurance. I enjoy the races and the women we are able to compete against and meet from all over the world. I love the camaraderie within our team and the support we receive from each other–not just about cancer, but for anything in life we may be experiencing, either positive or negative.
My INSO sisters are the best and I am so thankful that Yopi kept encouraging me!
Ann
I was diagnosed in 2001 with invasive ductal breast cancer, stage 2. I had surgery first, starting with lumpectomy and ending with mastectomy. I had six months of chemo, 6 weeks of radiation,
Read More
and finished it all with tram flap reconstruction in the spring of '02. I was very blessed to have tons of support from family and friends. I never felt compelled to join a support group. I heard about Indy SurviveOars through my step son's girlfriend. Kaitlyn was working with her Aunt Kathy with the behind the scenes organization to launch the Indy SurviveOars. She invited me to the kick off meeting in August of 2007. I was so excited to be a part of this amazing dragon boat sport! I began training with the team in the spring of '08 and have been hooked ever since! I truly love this sport, as well as my amazing teammates. This is a group of crazy, fun, and caring women…we have a blast! I've developed many friendships with other survivors, as well as supportoars, and board members, which I hold dearly. I've told many that this is the coolest thing I've ever done! We are a young, but strong BC dragon boat team, and I'm excited to stay for the long haul, and see where this team takes us!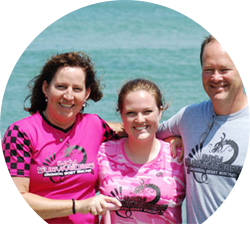 Cheryl
I am proud to say that I am one of the longest-survived padders on the team! I was diagnosed at the age of 38, and had a right lumpectomy with axillary node dissection followed by chemo and radiation.
Read More
I was also diagnosed with thyroid cancer 9 years later; so I am happy to say that I have kicked cancer's butt twice! The ladies on the dragon boat team are some of the toughest yet sweetest gals I know and it's fun to be a part of such a dynamic group.
Elaine
Life does sometimes provide bumps in the road. I was diagnosed July 2008 and began the breast cancer treatment journey, a detour I hadn't anticipated. The experience move forward so fast,
Read More
that it felt a bit surreal, at times. Though it was very clear that I had experienced each and every diagnostic and treatment intervention provided, at times it was like I was observing the process from afar. The losses of control, fatigue, adjustment to treatment side-effects wear you out along the way. I realized that I didn't do "patient" very well. Thanks to excellent medical care, my treatment was deemed successful August 2009. I heard. "You need to do dragon boating," after church one Sunday, from a friend, Dan, whose wife was a year ahead of me in the survivor journey. Not sure where he was coming from and/or what he really meant, I dismissed the suggestion. I was post radiation and tired. I received a call from Marilyn an Indy SurviveOar, to follow up on Dan's suggestion and invited me to paddle. I showed up at the pier, was coached on paddling techniques, and was in the boat. I didn't fall out nor cause harm to others, my goal for the evening, and I really had a good time. The experience was motivating and energizing. INSO provided me the incentive to move and begin activity again, something very important to me pre-diagnosis. The women I have met offer superb camaraderie, support and validation, more effective than any vitamins or herbs on the shelf.
Karen
I was diagnosed in May 2008 with Stage I Invasive Ductile Breast Cancer with triple positive receptors at the age of 49. I had a bilateral mastectomy with reconstruction, finished chemotherapy and finished a full year of
Read More
Herceptin. I am currently on a five year course of Femera. In December 2008 I had my ovaries removed along with more of the reconstruction. As I was awakening from the anesthesia I told my husband "I think someone was talking to me about a big pink boat." He was very excited and turned his computer toward me to show me I was not dreaming. The nurse caring for me had indeed been talking about the Indy SurviveOars and was also a breast cancer survivor. He said this is something you really need to think about and I have sent them an email to tell them you might be interested. At that moment I was thinking he was crazy! I began to get the emails that the team sent out and was really taken by how they cared for each other. When I met the team for the first time they were so incredibly open, welcoming, and encouraging. I was feeling very vulnerable at that point in my recovery, still in treatment with some surgery yet to come and was fearful of a "support group" that would dwell on the negatives. One of the team members said to me "if you are looking for a support group that is 'oh poor me', this is not the group for you. We share the daily struggles, what works and what doesn't; the last test results then we leave it all on the dock and get into the boat, work hard and have a good time." That is exactly what we do! Dragon Boating has been great for me physically and emotionally. God has blessed me with the opportunity to know the women of Indy SurviveOars
Lee
I joined Indy SurviveOars in the spring of 2010 with my neighbor, Deb Schutz, and was instantly hooked. My 1st cancer diagnosis was made after my screening mammogram at age 35, which was prescribed by a very proactive
Read More
OBGYN nurse practitioner. My daughter was not even two at the time, so I was driven to keep moving forward. I came out of that feeling stronger than ever, and with a new set of perky boobs. Three years later, the cancer came back on my mastectomy scar while I was pregnant with my 2nd child. After my son was born and I was in the midst of tests and bad news, a psychologist suggested I find a support group. The thought sent me into a bigger panic because I felt like I'd be trapped in a tiny room with tears and death, so I relied on friends and family to help get myself living again. In the fall of 2008 during my radiation, my physical therapist mentioned a breast cancer dragon boat team was just starting to help treat the same condition I was being treated for: lymphedema. I filed that interesting news away till Deb and I signed up for the Indy SurviveOars in December 2009. Now, my confidence and strength are back, all due to this amazing floating support group. Because of Indy SurviveOars, my hubby and I can both enjoy keeping up with our two kids.
Nancy
I saw an article in the Geist magazine about the formation of the Dragon Boat. I went to the organizational meeting held at Bella Vita. We had just moved to Indianapolis, and I was surprised to know one other person in
Read More
attendance.
No one likes to hear they have cancer, but there is always a silver lining! Being part of INSO is the best!! It is such a special sisterhood. I honestly don't think I have ever had the privilege of being associated with a greater group of women. If you do have a "cancer" question they are there to share their experiences and knowledge, but there is no "poor me"
The focus is on what can we do to win the next race. People who never thought they were athletes are now, those who had concerns with range of motion or lymphodema are improving and to me the most important thing is I have found the most wonderful group of women to share a laugh with! We all know laughter is the best medicine!
Stephanie
I was diagnosed with breast cancer one week after my 36th birthday. I was shocked, angry and scared! Nobody in my life had personally gone through this type of experience andI was too young.
Read More
I had four surgeries, 5 months of chemotherapy, 33 radiation treatments and I take Tamoxifen. When treatment was over I was struggling with moving on past the anger and "now what?". Ten months later I decided to check out the dragon boat racing team I had heard about. Since then I have felt connected, understood and happy. These women don't dwell on all that has happened to them because we are all in the same boat. This team has helped me recover.
Val
My name is Val. I was diagnosed with Stage 1 Estrogen Receptor Positive Breast Cancer on April 28, 2006 at age 48. Treatment for me consisted of two lumpectomy surgeries and thirty doses of radiation with
Read More
additional surgery to reduce scar tissue in 2008. Indy SurviveOars was brought to my attention through my work as a surgical nurse. As a wife, mother and grandmother this is important time I take for myself. It's one of many positive experiences that have come from having had cancer. I'm so lucky to have found this group of wonderful women and looking forward to many more exciting seasons.
On December 19, 2011, Val lost her courageous battle with multiple myeloma after battling the disease for over a year. Words can never express adequately the impact Val had on our team nor the magnitude of loss we all feel in the Indy SurviveOars family. Val will be missed terribly by all who had the privilege to paddle with her.
Carrie
I am so blessed to be able to call myself a SupportOar with the Indy SurviveOars. It has been such an amazing opportunity to practice, travel, race, and celebrate with this group of ladies.
Read More
I am a family physician, so I have experience with seeing how cancer can affect a person's health, physically and emotionally.
In 2011, I got handed an amazing gift, and this time I'm not referring to one of my 4 children. I had a new Nurse practitioner, Deb S, (truly the best NP I've ever known) join my practice. Since then, she has become one of my closest friends. Deb is a breast cancer conqueror in best of ways. She takes on each day with such enthusiasm and love. She invited me to practice one day in 2013. I was hooked! I started coming every week and by my second season, I had rearranged by schedule to accommodate the practice schedule. The women are all so different here. They have different strengths and weaknesses, but it just works. TOGETHER. The best type of team.
I have since joined the spirit wear committee in order to offer some support outside of my amazing paddling skills
There are ways to use your talents and gifts to improve and support this team. In the meantime, you'll find that they support you just as much!
Deb
I was diagnosed with breast cancer Aug 28, 2006. I had 2 lumpectomies, chemo and radiation with treatment ending in June 2007. I saw the team was forming in an article in the Indianapolis Star. It looked like something that was
Read More
really cool and different. It's turned out to be so much more than that. I've met the most incredible group of people through involvement in this team. The physical challenge of dragon boating makes me feel strong and alive and the emotional connection with these women has been life changing.
Etta
My name is Etta and I was diagnosed with breast cancer on January 18, 2006, at age 48. I underwent a bilateral mastectomy with reconstruction and 8 rounds of chemotherapy over six months.
Read More
A friend of mine learned about the formation of this team from one of the founding members and convinced me to go to the organizational meeting in August of 2006. I have been happily paddling with the team ever since that time. I was honored to serve as team Captain for the first two paddling seasons and currently serve as Treasurer of the Board of Directors. Participating on this team has been an indescribable experience and I am completely hooked on dragon boating! Indy SurviveOars are smart, funny and caring women who share a common experience, support for one another and have an enormous amount of fun together. I urge BC survivors to come and try it! The sport of dragon boating is really easy to learn and you will be amazed at the fun and camaraderie you will discover on this team. Paddles Up!!
Kim
On April 12, 2016, Kim, our dear friend and teammate, lost her 15 year battle with cancer. Kim was a gentle, selfless and kind soul. Her dry wit and outlook on life brought joy to our team. Kim taught us to face adversity with
Read More
unshakeable courage and grace. To know her was to love her. Though we miss her deeply, her spirit lives on in our hearts
I was the working mother of two young children when I was diagnosed with Stage 2 invasive ductal breast cancer in 2001 at the age of 39. I remember being told repeatedly throughout all the exams and tests that "it is probably just a cyst." I knew that wasn't true when I received two phone messages from my family doctor's office saying, "Please call as soon as possible. We need to talk to you." I think the nurse practitioner leaving the message was just as anxious! And I can still feel the wooziness that came over me just hearing those messages.
I continued the "normal" life of a working nurse, wife, and mother during chemo, a lumpectomy, and radiation and the subsequent loss of hair. As a labor and delivery nurse at the time, I did not want those women and families to worry about their nurse during their happy time. I endured the torture of "The Squirrel" (my nickname for the hot, scratchy mass of hair fibers on my head) when at work, but that thing became the Flying Squirrel the minute I hit the door of home!
All was well until 2007 when it was discovered that I had fallopian tube cancer which was followed by surgery and chemo again. I did take that year off work to focus on my recovery and am now back working full-time as a clinical nurse educator. The cancer rears its ugly head every couple of years but we knock it back down and continue on. I have always enjoyed exercise and love the water so when I saw a notice in the newspaper for an Indy SurviveOars open house, I overcame my shyness and stepped out of my comfort zone to attend and loved it. I have met so many wonderful people and I encourage any woman to give it a try!
Marilyn
I was diagnosed with Her 2 Positive breast cancer in June of 2007 at the age of 61. I am the first women in my large family of women to have breast cancer. I had a right lumpectomy on June 28, 2007
Read More
and completed my Mamosite radiation the middle of September of the same year. At least once or twice a month I still get a burning sensation in the area of the Mamosite due to an infection at the time of treatment. I feel very fortunate that I did not need Chemo.
I joined the team as it was being formed even before we had a boat! It's been a wonderful adventure.
Sarah
I was diagnosed with breast cancer Aug 14, 2007 at the age of 38. I endured 4 months of aggressive chemo and a double mastectomy with DIEP reconstruction. I got the pleasure of 10 surgeries between ports and
Read More
the reconstruction process.
I was recruited by another team member shortly after my reconstruction. I hate water, but I must say that I am addicted to the sport. My arms gained full range of motion after only a few months of paddling., so much so that my doctor felt the scar tissue change. The team is a great bunch of women. They are not "why me" people, but instead take what life has given them and turned it into something positive. This team rocks and I am very proud to be a member!!
Susan
In 1994 at age 39 my only sister succumbed to breast cancer, leaving 4 children under 13 years old. Even though I thought it was an anomaly due to no history of any kind of cancer on either side of my family
Read More
I did begin getting yearly mammograms at age 34.
Year after year they came back fine; however every once in awhile I would have to go back but it always turned out to be nothing, until July of 2010. A return visit ultrasound showed more than a shadow so my breast doctor did a biopsy and as I have always requested honesty, she told me that it did not look good. She was right and she called me a few days later and told me to come in that day because I had cancer. She said that with my sister's young death from breast cancer and because I was also young (51), she would like me to be tested for the BRCA gene. I had three daughters and I wanted to know so we sent the blood work in that day. It came back positive for the BRCA1 gene. The gene came through my father and my oldest daughter and oldest brother have tested positive as well. My younger daughter says she will test, but is not ready to yet. My oldest daughter has taken her own journey and has courageously taken preventive measures; ask me about it when you meet me if you want to know the story!
I had chemotherapy which, in the end, landed me in the hospital for 10 days, and then had a bilateral mastectomy. Due to the BRCA 1 gene, I also had my ovaries removed. In the midst of treatment I lost my youngest daughter. I will say that the two most generally dreaded things in life – cancer and losing a child – had suddenly all happened to me, and my mantra of "someone is always worse off than me, and have joy no matter what" was being severely tested. My family and loved ones were there for me and I did not try any support groups because they typically do not seem like a good fit for me.
Through a breast cancer survivor fashion show, I met Etta (her story is also on the website) who encouraged me to come paddle! Joining the Indy SurviveOars has been the best therapy I could ever dream of. The group is perfect for me as we do not continuously bemoan our fates; we fight back and have joy in living. I lost a sister, but I truly feel like I have gained all these wonderful sisters who support me and have become such close friends. The peace, happiness and feeling of accomplishment I find out on the water paddling with my sisters cannot even be described – it is like coming home. You just have to come and check it out for yourself.
In Memoriam of our sisters